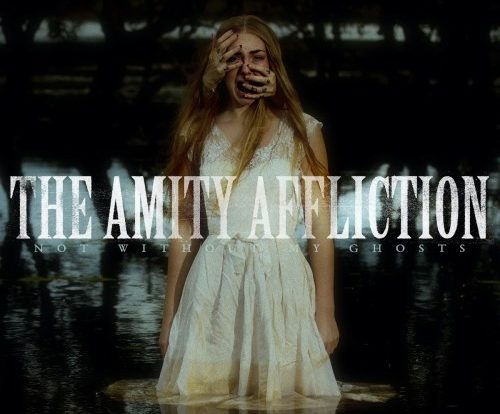 This post was originally published on this site
THE AMITY AFFLICTION have announced a new album!
Titled Not Without My Ghosts, the upcoming album from the Australian metalcore band is the follow-up to 2020's Everyone Loves You… Once You Leave Them, and is scheduled to be released in May this year, via Pure Noise Records.
The album boasts multiple features — something the band has not incorporated into a release in quite some time — including late New Zealand rapper LOUIE KNUXX, who passed away in 2021, as well as COMEBACK KID's Andrew Neufeld, THE PLOT IN YOU's Landon Tewers, and PHEM.
Alongside the announcement of the new album, the band have released a new music video for a new song lifted from the upcoming album; It's Hell Down here. The new song is the third single to be released from the upcoming new album, following on from I See Dead People and Show Me Your God.
"This song is a letter from myself and Ahren, written by me, to our friends who have passed on to the other side," vocalist Joel Birch shares. "I'm 41. I'm bipolar. And I'm pretty tired of it. That's where lyrics like 'Like a snake I tire / the cold dark clouds, they steal my light' come from. The song is wrapping up how I feel daily, and reflect on the time leading up to my friend killing himself. I'm sure a lot of people who have experienced that guilt at not seeing what becomes glaringly obvious after the fact."
Watch the official music video for It's Hell Down Here here:
Also, you can view both the track list and artwork for the upcoming new album below:
Track List: 
Show Me Your God
It's Hell Down Here
Fade Away
Death And The Setting Sun (Feat. Andrew Neufeld)
I See Dead People (Feat. Louie Knuxx)
When It Rains It Pours (Feat. Landon Tewers)
The Big Sleep
Close To Me
God Voice
Not Without My Ghosts (Feat. Phem)
Not Without My Ghosts is set for release on May 12th via Pure Noise Records. Pre-orders are available now and can be purchased here.
For more information on THE AMITY AFFLICTION like their official page on Facebook.
The post The Amity Affliction announce new album 'Not Without My Ghosts' appeared first on Distorted Sound Magazine.