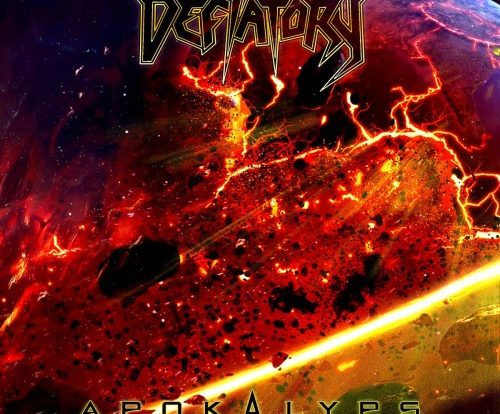 This post was originally published on this site
Bay Area boys brigade thrash metal. It's been done to death, like a dozen band tees in the back of your wardrobe. No matter the dye you try, you'll never get it back to its glory days. But as Sweden's DEFIATORY prove on their third album Apokalyps, that doesn't mean you can't bring the glory days back to life for a half hour of power. Whereas 2018's Hades Rising stayed strictly in the lines of 80s thrash tape cassette colouring books, Apokalyps benefits from branching out into melodic metal, power metal and NWOBHM. With the shackles of a single soundscape stricken off, DEFIATORY feel like they've finally found their feet and are having fun.
Opening trio Apocalypse, Only War, and Belligerent And Hostile are red herrings that haunt Apokalyps like a spectre of thrash metal's past. It's difficult to differentiate the three from each other, let alone the Bay Area legends they call to mind. Apocalypse combines double bass battering rams and tornado riffs, like DEATH ANGEL and EXODUS dancing with the devil; Only War's circle pit crunch sounds like a general orchestrating its troops into thrash metal war, without straying from the Bay Area bruising you've been dealt so many times before; and KREATOR come to town on Belligerent And Hostile, as chugging riffs and deathly drums leave no room for pause with a balls-to-the-wall fists in your face thrash/speed mash-up straight from the 80s.
That's not to say they're not good; in fact, the opening attack is a testament to the altar of thrash metal they worship at. It makes you question whether bands should seek to reinvent the wheel, or whether recreating the glory days like a hologram reliving history is good enough? DEFIATRORY complicates the answer by shaking off their creative shackles and slipping into second gear.
Into The Unknown promotes power metal solos and old-school metal melodies to the fore, making your brain feel like you've ridden the spaghetti junction one too many times to feel anything but high; Knives tips its cap to ANTHRAX for three-minutes of melodic thrash-meets-NWOBHM madness that has you chomping at the bit to chant along. 
Elsewhere, they spin off into spacey solos and symphonic orchestration to help soundtrack the end of the world. And whilst thrash has always fantasised about our planet perishing at the hands of all-out-war, it doesn't often sound as good to be going six feet under as it does on Apokalyps. When vocalist Martin Runnzell howls like a wolf to the moon "nobody saw the fire" and the band growls it back like a Bukavac, you can't help but growl along.
As much as sticking to your guns can be costly in a war, DEFIATORY's ability to bend time to sound like they're straight from the Bay Area scene of the 80s is honourable. Guitarists Ludvig Johansson and Viggo Svanberg single-handedly set Apokalyps apart from its contemporaries, with a command over their weapons that few world leaders occupy over their armies, slinging together power chords, high-register solos, and tectonic riffs at any given moment to dizzy up the eardrums. 
DEFIATORY don't ditch the Bay Area boys brigade on Apokalyps, choosing to channel it's glory days for a victory lap of its legacy instead. If we can't travel back in time physically, why can't we do it sonically and have fun? DEFIATORY certainly believe we can. 
Rating: 7/10
Apokalyps is set for release on June 3rd via Black Lion Records.
Like DEFIATORY on Facebook.
The post ALBUM REVIEW: Apokalyps – Defiatory appeared first on Distorted Sound Magazine.