Marshall 2203KK Kerry King Signature JCM800 Guitar Amp Head
100 watts of insane power and Slayer tone!
The all-valve Kerry King Signature JCM800 2203KK is the essence of simplicity–a single-channel tube amp with no reverb or effects. It's easy control panel, distinctive roar, and larger than life edge has set the standard by which many rock amps are judged.
This Kerry King model features a switchable Kerry King signature sound section called "The Beast" that has two adjustable controls –"Assault" & "Gate." "Assault" intensity controls the extent of Kerry's signature EQ boost, and "Gate" is an adjustable, studio-quality, ultra-fast noise reduction unit. The 3-band EQ gives you plenty of control, but the base tone of this amp is patterned after the reverse-shape EQ setting used by Kerry himself! Eye-catching tribal graphics blaze from the front panel and baffle. Jim Marshall and Kerry King's signature's on the control panel identify its pedigree.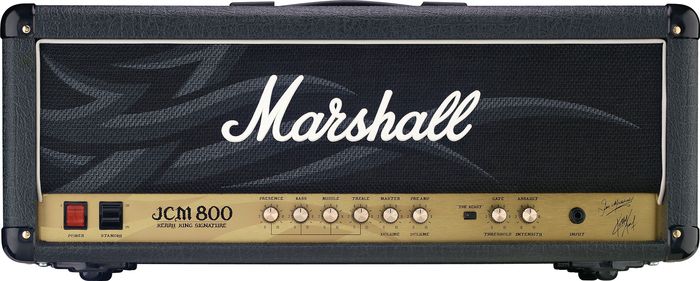 One of the nicest surprises: Marshall has added functionality to the amp, while lowering the price!
Features
100W valve head
4 KT88s in the power stage
3 ECC83s in the preamp
Master Volume
Preamp Volume
Standby Switch
3-band EQ
Presence control
"The Beast" Boost
Gate Threshold
Assault Intensity
Jim Marshall and Kerry King signatures on control panel
Made in England
About The Author